Black Bustled
Velvet Mourning Gown



NOTICE:
This web site is dedicated to replicating the costumes of legends: those from classic films or ones worn by iconic celebrities.
Due to interference by 'the powers that be', we have been forced to remove any and all film references in any form: art work, images or photography.
We apologize for the lack of/missing comparison photos.
Please contact us for further information:
gwtw4ever2@earthlink.net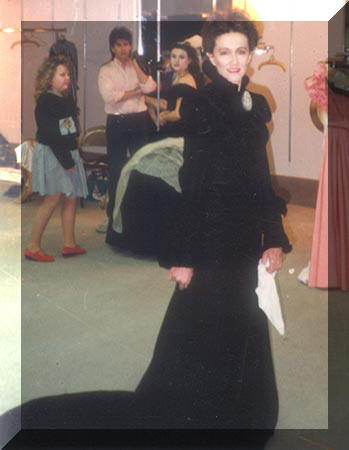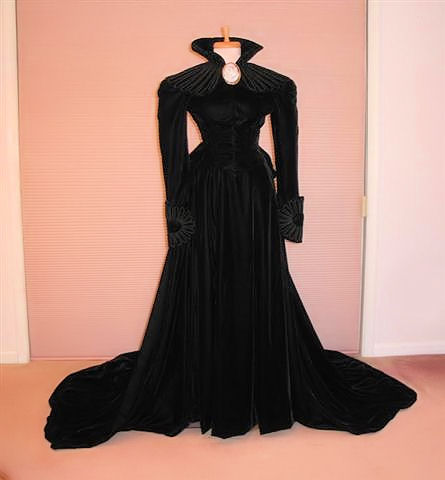 Two replica dresses: one on top was in a fashion show, dress on bottom is Gwtw4eveR recreation.
This two piece dress is constructed of black velvet. Bodice is flat lined, boned and lined and closes with 32 hooks in a concealed placket with another 8 used to fasten it to skirt.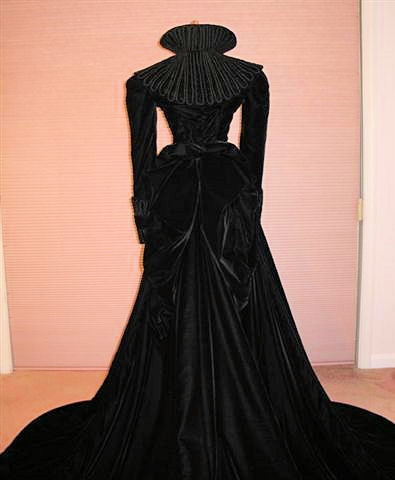 Back details of the Gwtw4eveR recreation.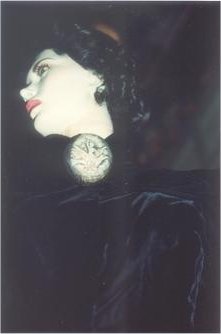 Picture above is a replica on exhibit.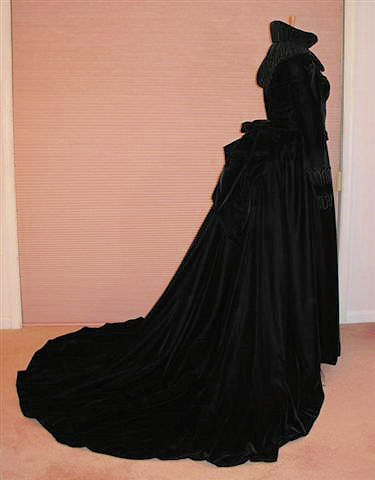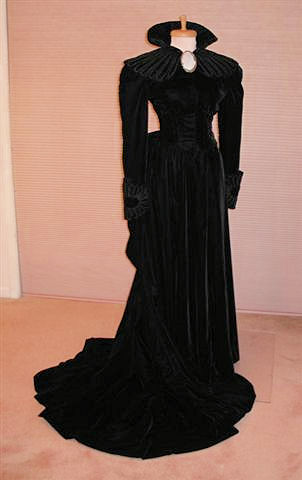 Velvet Mourning gown for Dee. Recreation by Gwtw4eveR
The distinctive features of this costume are the trapunto quilted collar, shoulder cape and oversized sleeve cuffs. The custom made oversized cameo is available on special commission.

We have a custom
made replica of the mourning brooch we sadly cannot use large pictures it in the example pictures without blurring them due to the
continuing theft and poor copies of our work that are being produced by other less skilled seamstresses.
Oversized cameo brooch needed to decorate neckline is not included but may be ordered by commission through our agent and an artist/carver in Italy. Brooch takes 4-6 months.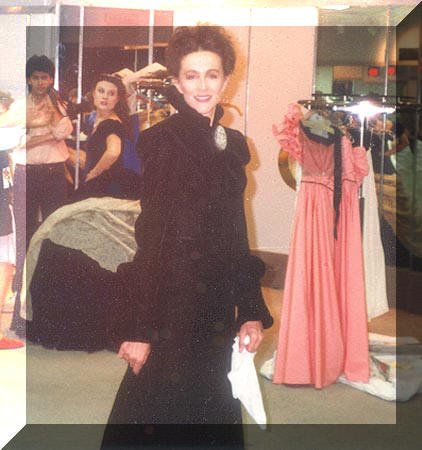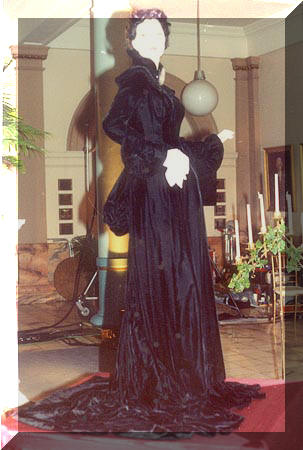 Two samples of replica dress in a fashion show and on exhibit. Gwtw4eveR blue portrait dress is in background on left.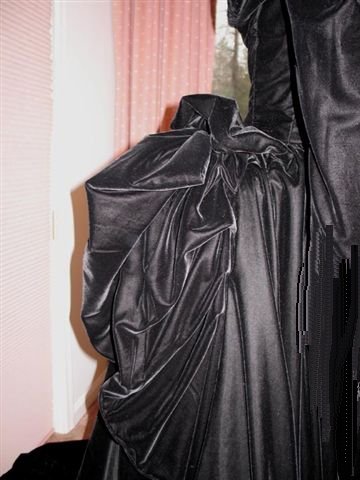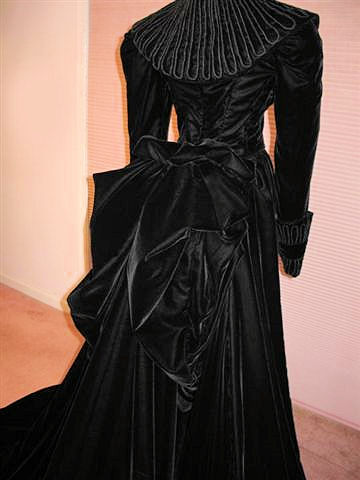 Skirt is 1870's styled with elaborate bustled back and long train, mounted on a wide grosgrain waistband. A large bustle pad is required to support the bustled skirt back.
The Gwtw4eveR dress above was used in a Halloween Party episode of the TV Soap "The Young & the Restless".

~Inquire about Life size reproductions~
If you are interested in having any of the life size reproduction costumes ( gowns etc. ) please email us with your current dress size and height and the costume you are interested in replicating. We will send you back a measurement chart for fitting. We are not limited to Civil War costumes. If you would like any of the other dresses or costumes from other films we can discuss recreating them for you. . Please send you inquiries about life-size dresses etc. to gwtw4ever2@earthlink.net.

Gown Prices
Since the figuring of the costs for one of these replicas can be time consuming taking many hours of research into current fabric costs, we will quote you the estimated charges for a few of the dresses.

Home / Doll Patterns Index / Life-Size Gowns
GWTW Collectables /Seamstress