Red Velvet Robe

NOTICE:
This web site is dedicated to replicating the costumes of legends: those from classic films or ones worn by iconic celebrities.
Due to interference by 'the powers that be', we have been forced to remove any and all film references in any form: art work, images or photography.
We apologize for the lack of/missing comparison photos.
Please contact us for further information:
gwtw4ever2@earthlink.net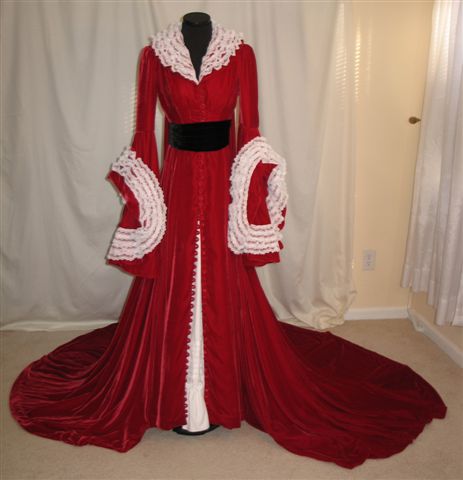 ~All robes shown are Gwtw4eveR replicas.
Above shoes sleeve cuffs turned back; below cuffs are down~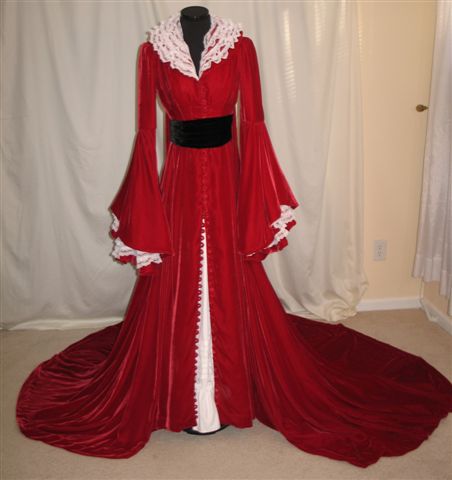 This fully lined SILK VELVET robe is constructed of fire engine red velvet .The bodice of the robe is flat lined, and lined while the entire skirt and train are lined with taffeta. It has custom made silk velvet covered buttons down front which fasten with loops made of the silk velvet .
The collar and sleeve lining have multiple rows of lace.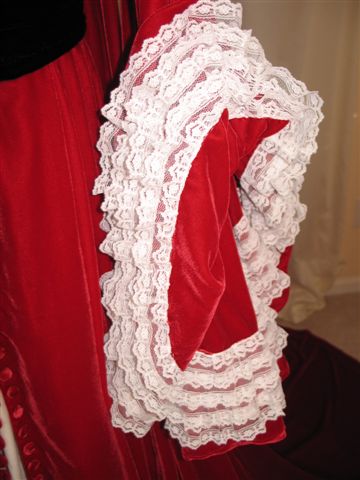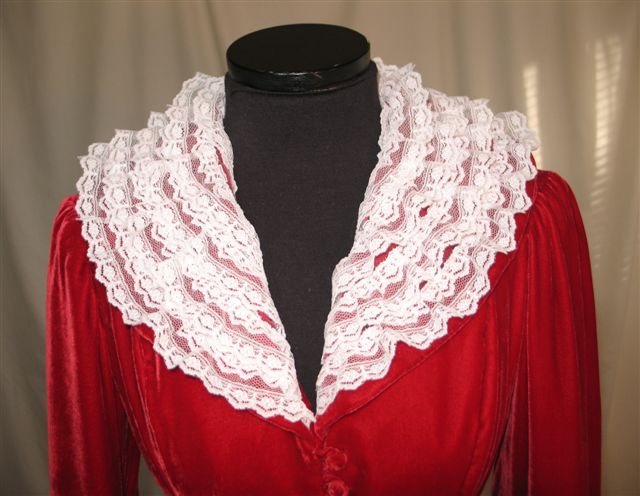 Bodice closes with hidden hooks & eyes with additional sets attaching it to the skirt.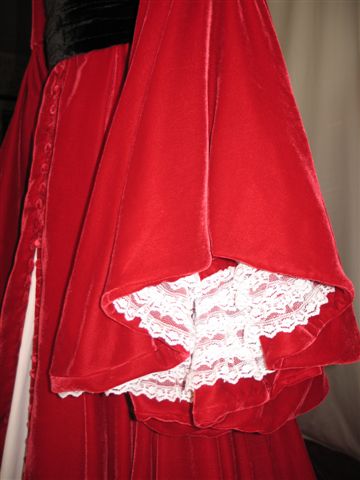 The back has a long Watteau train.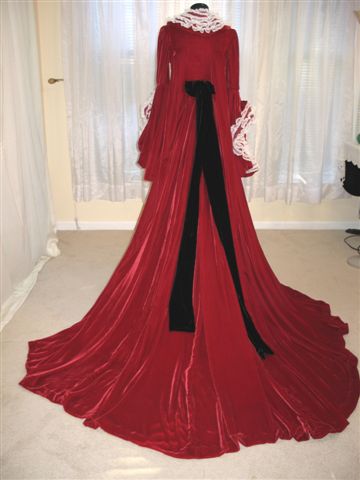 Train Back Details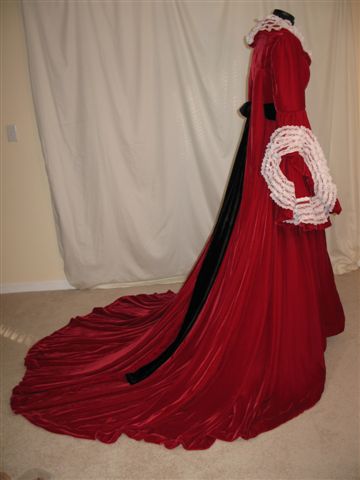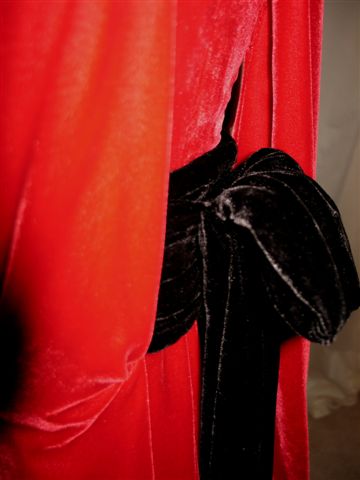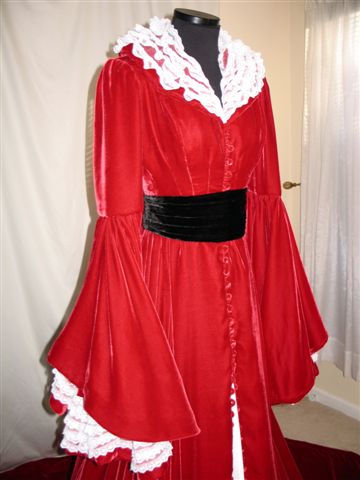 A petticoat is in included with the robe .
It is a full circular slip with multiple rows of tucks and a deep flounce.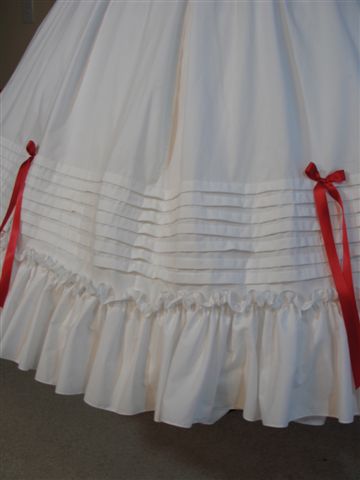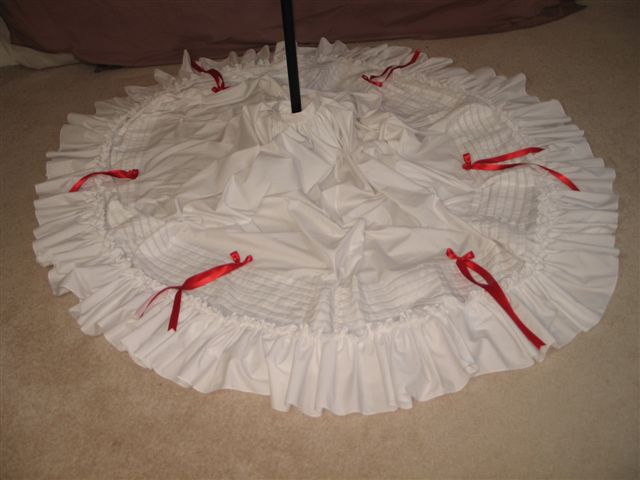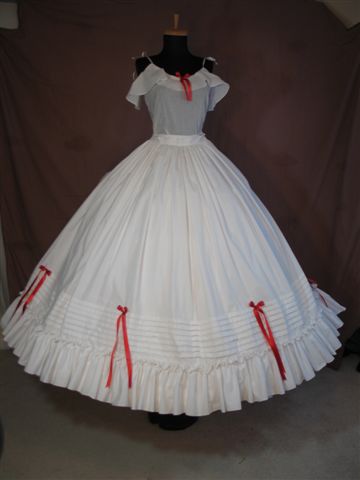 Slip with a hoop under it. Batiste camisole worn under robe.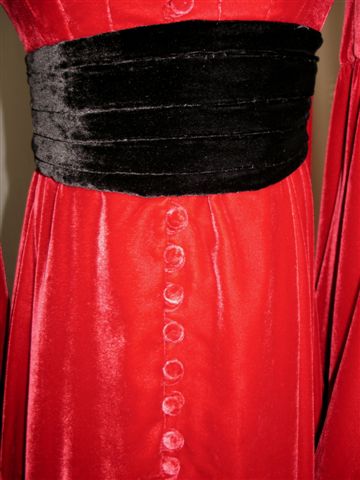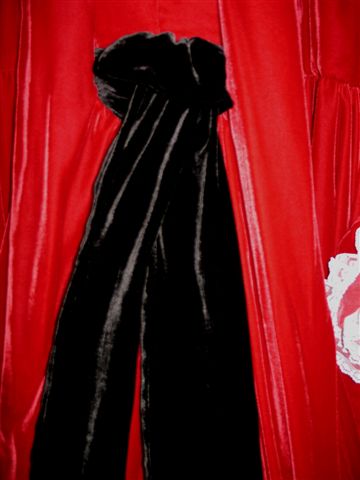 Sash Details

~Inquire about Life size reproductions~
If you are interested in having any of the life size reproduction costumes ( gowns etc. ) please email us with your current dress size and height and the costume you are interested in replicating. We will send you back a measurement chart for fitting. We are not limited to Civil War costumes. If you would like any of the other dresses or costumes from other films we can discuss recreating them for you. Please send you inquiries about life-size dresses etc. to gwtw4ever2@earthlink.net.
~Gown Prices~