"Red Dress" Party Dress
~The Garnet Gown~


NOTICE:
This web site is dedicated to replicating the costumes of legends: those from classic films or ones worn by iconic celebrities.
Due to interferance by 'the powers that be', we have been forced to remove any and all film references in any form: art work, images or photography.
We apologize for the lack of/missing comparison photos.
Please contact us for further information:
gwtw4ever2@earthlink.net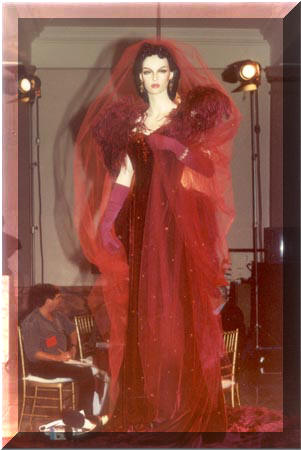 " Reproduction Gown " in collection of Gwtw4eveR shown on exhibit for TV taping

Dress is made with deep burgundy /garnet/claret wine velvet and takes from 11 yards (basic dress) to 18 yards ( dress with butterfly train added).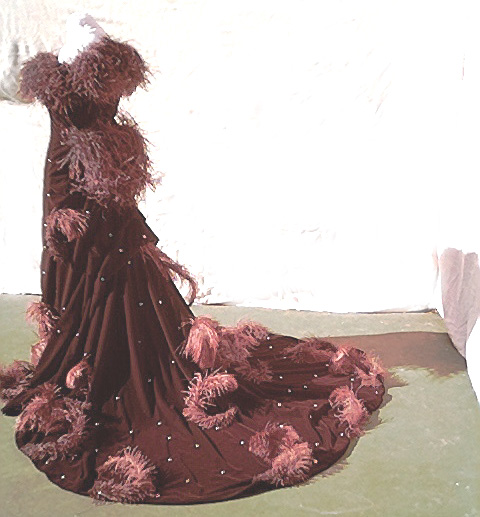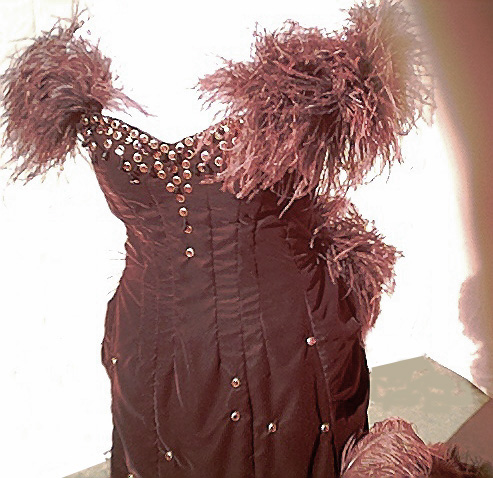 Decorated with SWAROVSKI Austrian crystals each hand applied and rimmed with gold halo settings. Number used will be approximately 3 gross =430 plus ( 5 gross =720 plus stones with butterfly train)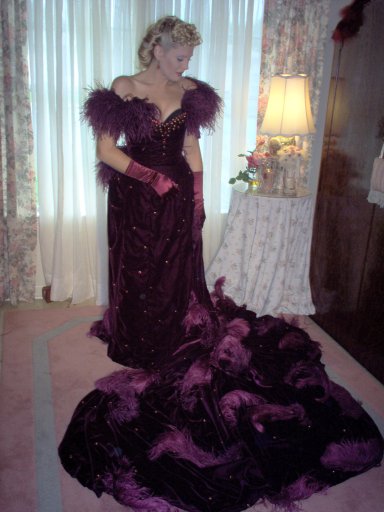 Gwtw4ever's Reproduction for Dee .
Gown may be made in deep burgundy, red OR any color of YOUR choice!
Below are 2 of the colors for comparison.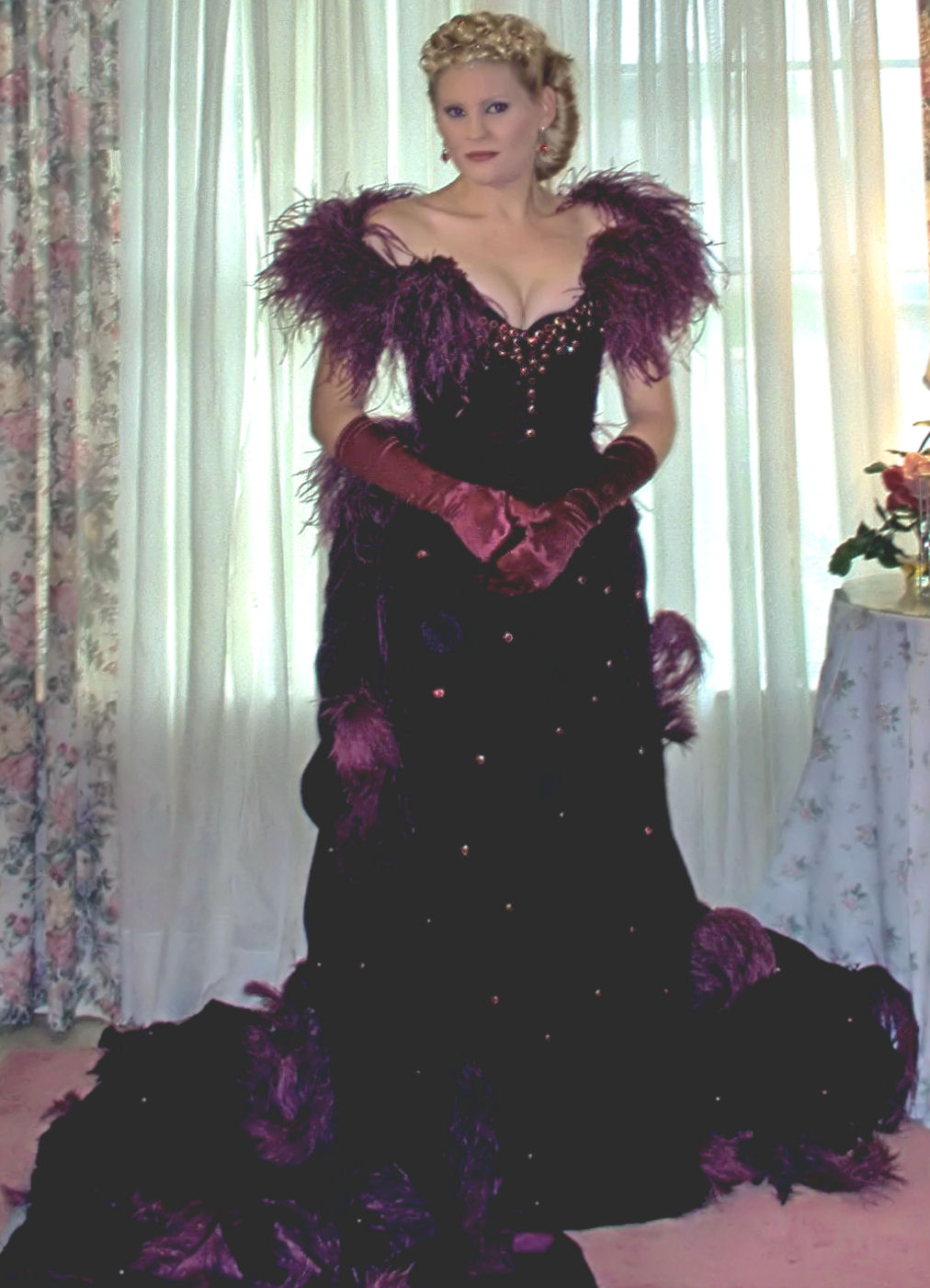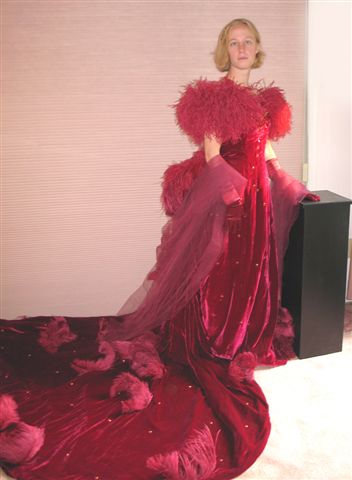 Dee wearing her burgundy velvet dress and Lila Belle wearing her red velvet dress.

Feather trim has an 8 ply custom dyed ostrich boa for the neckline and another smaller one for the back of waist/bustle. Dress is further decorated with 4 to 5 dozen custom dyed and hand curled ostrich plumes.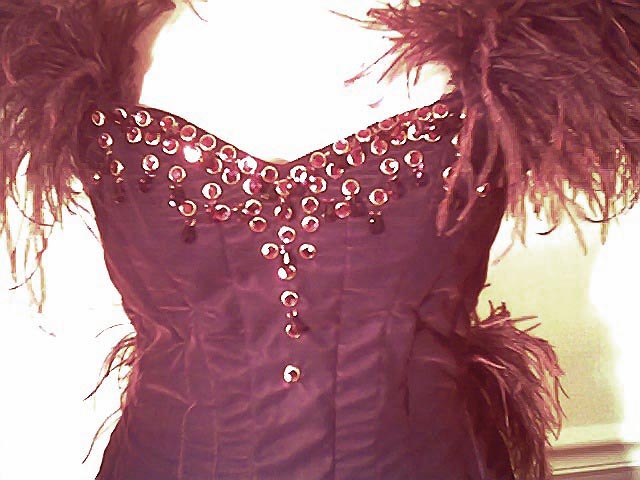 Bodice and dress front are flat lined, boned and secured by hidden hooks and eyes. Dress is lined.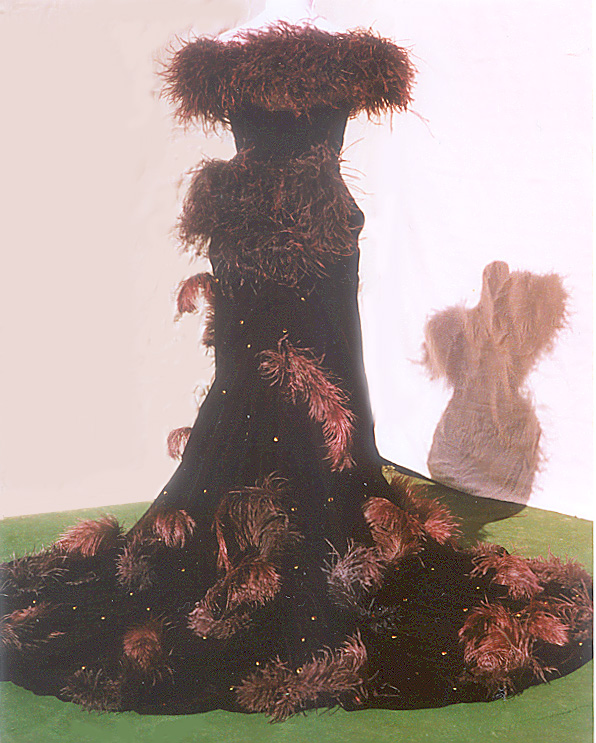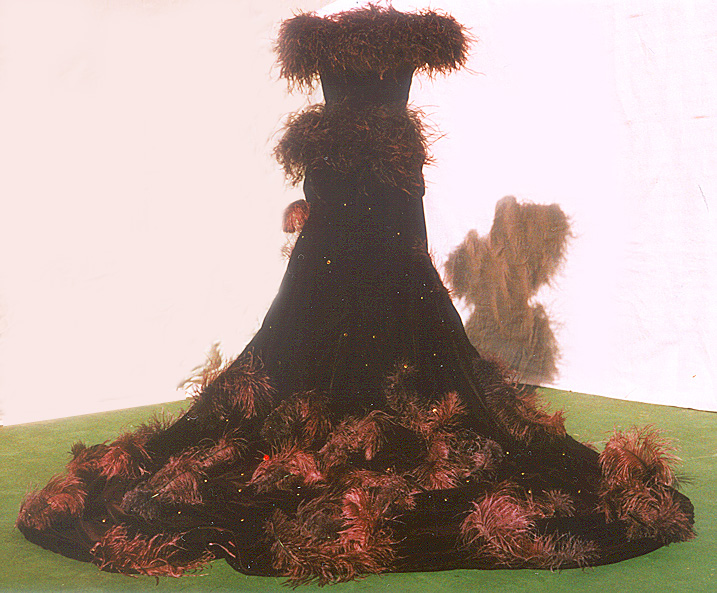 Both of the back views are the Reproduction gowns: one with standard train ( on the left) and the other with added detachable butterfly train ( on the right)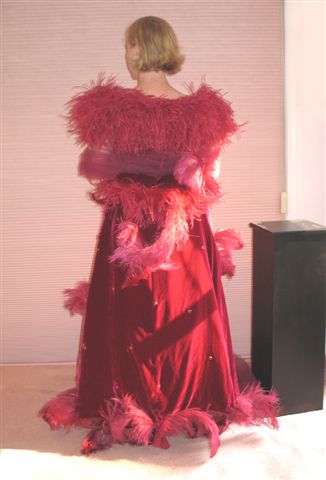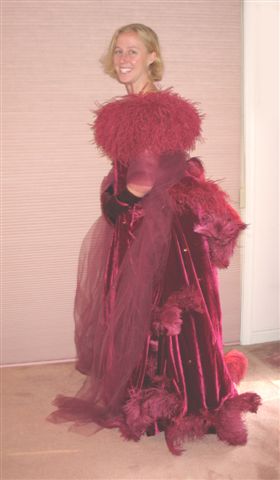 Back view of Lila Belle with optional dancing bustle (avaliable on request).
Dress may be made in 2 variations: with or without a detachable butterfly train. Basic dress has attached train.
Dress requires a bustle pad for back/train support.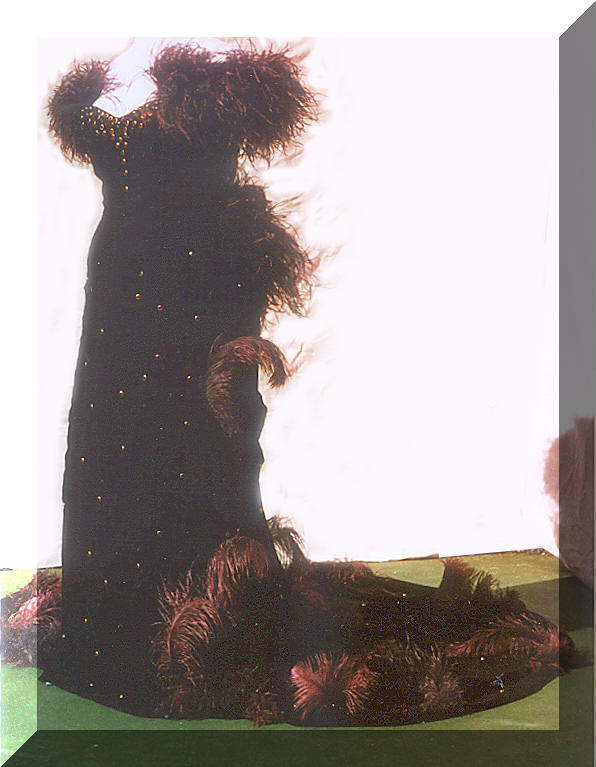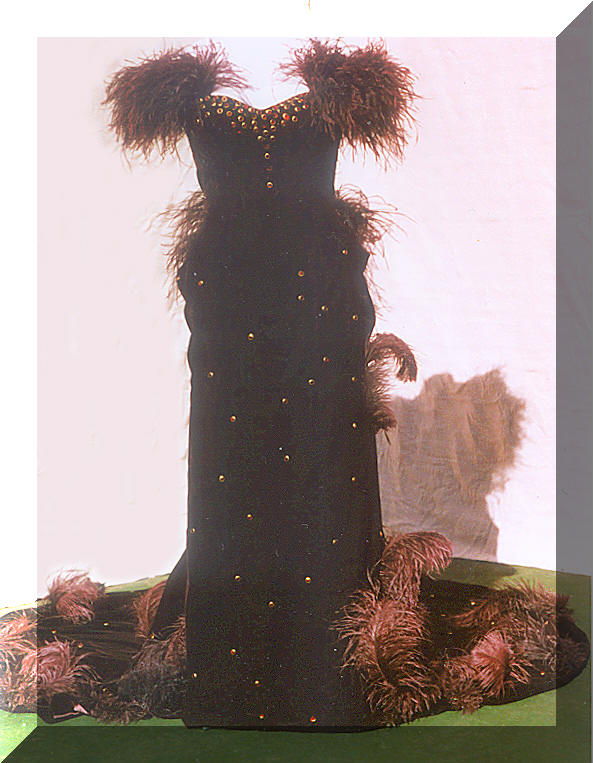 By Gwtw4ever for Dee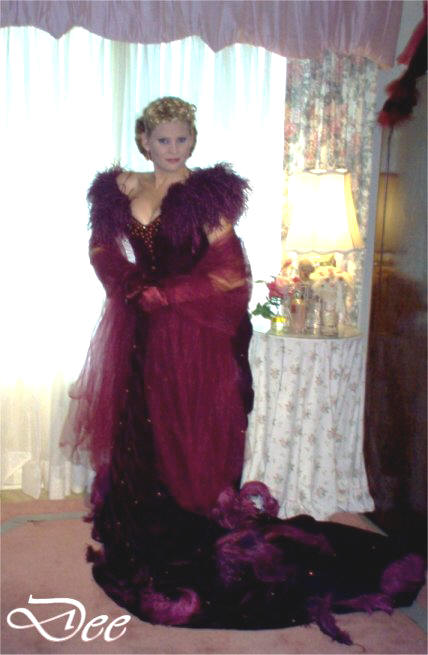 Also included are 12 hair ornaments which are made from the SWAROVSKI Austrian crystals and gold halo rims mounted on hair pins ( style of pins may vary), and a velvet tassel purse.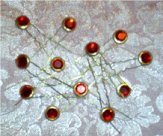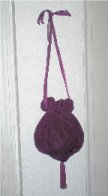 Matching 4 yard net shawl/scarf as well as Gloves to match are included.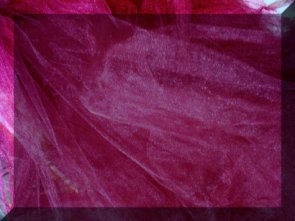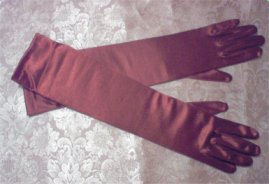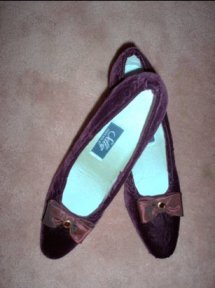 Matching garnet velvet shoes adorned with bows and gold rim crystals
are shown as a suggestion but are not included.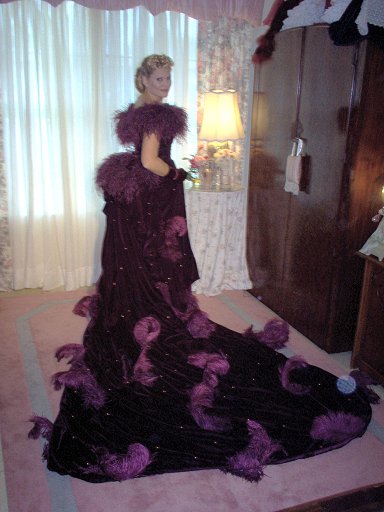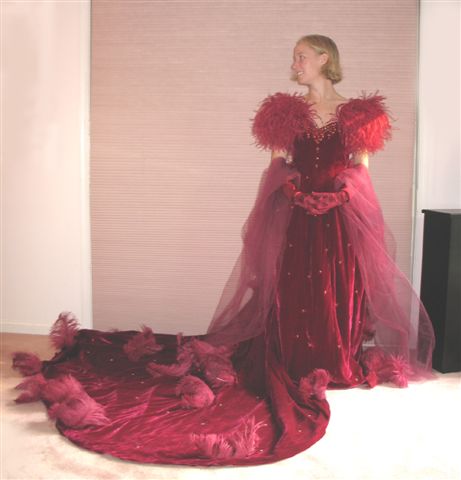 Dee and Lila Belle in the party gowns both with the butterfly train added.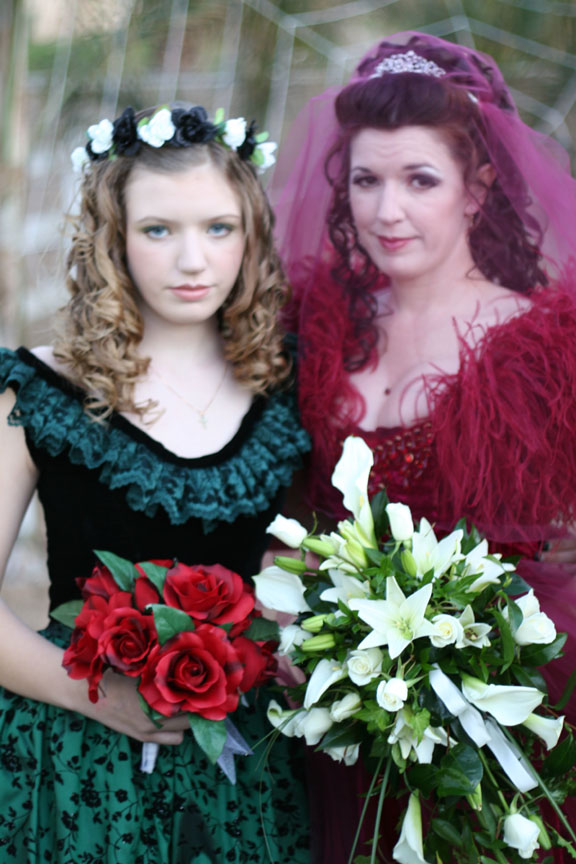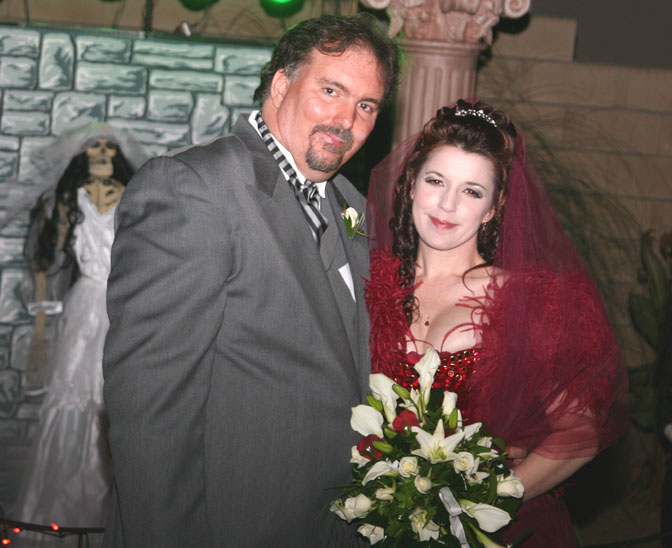 Dawn wearing her Garnet as a Wedding Gown.
The "Red Dress" is also known as "Ashley's Birthday Party" dress ~ "The Shame Gown" and the Garnet Velvet dress. Photographing this dress and capturing the true color of the velvet is difficult. The velvet can look black, purple, and, of course, red as it appeared in the movie "Gone With the Wind". The film worn dress was described as being 'claret wine" in color. The dress actually is a deep rich BURGUNDY velvet. There are many pictures of this gown in several stages and there are a few different gowns in this group of pictures. We took several photographs of one of the gowns before we added all the ostrich feathers and plumes. This will give you a chance to see all the intricate detailing on the dress before being obscured by the feathers. There are 2 different variations of bustled trains for the gown. Swarovski Austrian crystal faceted stones set in gold halo rims which are scattered all over the dress and trains. Once again, most of these images were color altered to show detailing.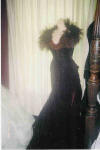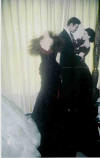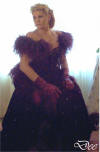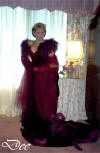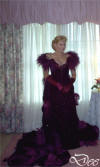 Above is dress done in burgundy. Note lighting and use of flash prduces differnces in color.
This is the dress done in a deep red velvet below.


~Inquire about Life size reproductions~
If you are interested in having any life size reproduction costumes ( gowns etc. ) please email us with your current dress size and height and the costume you are interested in replicating. We will send you back a measurement chart for fitting. We are not limited to Civil War costumes. If you would like any other dresses or costumes from other films we can discuss recreating them for you. Please send your inquiries about life-size dresses etc. to gwtw4ever2@earthlink.net.
Gown Prices
Since the figuring of the costs for one of these replicas can be time consuming taking many hours of research into current fabric costs, we will quote you the recent charges for a few of the dresses.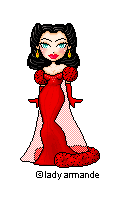 Home / Doll Patterns Index / Life-Size Gowns
GWTW Collectables /Seamstress